Bergamot
Read the testimonials of many satisfied customers!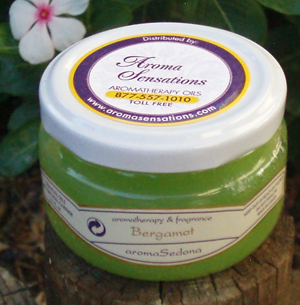 Click to order

3.5 oz. $29.99

1.2 oz. $19.99
Bergamot is great for anxiety, depression & stress-related conditions. It has a refreshing uplifting quality. It also helps with flu & sinus inflammation. We have several truckers who use the Bergamot in their cabs for stress but it also helps keep them alert. The most feedback we have received on the Bergamot is from those suffering from anxiety or panic attacks... it does a wonderful job soothing the mind and they are normally much calmer within several minutes of smelling the Bergamot.
* You should receive your order in less than two weeks. However, if you have a deadline and need it sooner, please indicate that during checkout plus, give us a call at
(877) 557-1010 to be on the safe side.
* All orders are sent via the US Postal Service or Fed Ex.
All international customers will be responsible for any extra duties, fees, etc., on their shipments.
Take your favorite Aroma Sensations scent with you with our new aromatherapy necklaces

We are now offering discounts for quantity purchases.
Order $75 or more and receive 10% off
Order $175 or more and receive 20% off
Minimum order based on subtotal; does not include shipping & handling
Important: While traveling, keep the oils in a zipper-type baggie(s) & try to keep them upright. Some customers who placed saran wrap over the opening before capping the jar have said that it provided an adequate seal.
THESE ARE OILS and may spill if tipped - protect your furniture prior to use. When you are traveling with oils, place them in a zip-lock bag or plastic container and keep them upright. If you're pregnant or you have any major medical conditions, check with your physician before use. Oils may vary in effectiveness based on your individual physiology.
These statements have not been evaluated by the Food and Drug Administration. This product(s) is not intended to diagnose, treat, cure or prevent any disease. The information on these pages is not intended for medical claims, but for informational and educational purposes. Please consult a health professional for medical advice.