Marjoram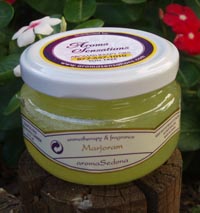 Click to order

3.5oz $29.99

1.2oz $19.99
A special blend of Marjoram & Eucalyptol (natural organic compound of Eucalyptus) helps promote clear breathing which helps to create a quiet environment. Reinforces with Eucalyptus or Pine.
Directions:
Open the jar while preparing for bed, take 4-5 sniffs before you retire and place the open jar as close as possible to you on the night table. It is suggested to open jar over the sink for the first time & that a glass plate or bowl be placed under the jar to protect your furniture in case of spillage. In the morning, close the jar and give it a mild shake to refresh the sponge.
---
* Your order will normally ship within 24-48 hours. If you need express mail please call us to place that order at (877) 557-1010. Tracking information will be sent to the email used to place order.
* All orders are sent via the US Postal Service or FedEx.
Click to order

3.5oz $29.99

1.2oz $19.99
Take your favorite Aroma Sensations scent with you with our essential oil necklaces.

We are now offering discounts for quantity purchases.
Order $75 or more and receive 10% off
Order $175 or more and receive 20% off
Minimum order based on subtotal; does not include shipping & handling
Important: While traveling, keep the oils in a zipper-type baggie(s) & try to keep them upright. Some customers who placed saran wrap over the opening before capping the jar have said that it provided an adequate seal.
THESE ARE OILS and may spill if tipped - protect your furniture with a glass dish or bowl prior to use. Keep out of reach of children. When you are traveling with oils, place them in a zipper lock bag or plastic container and keep them upright.
CAUTION: If you are pregnant, nursing or you have any medical conditions, check with your physician before use. Do not expose oils to direct sunlight.
These statements have not been evaluated by the Food and Drug Administration. These products are not intended to diagnose, treat, cure or prevent any disease. The information on these pages is not intended for medical claims but for informational and educational purposes. Please consult a health professional for medical advice.
Home & Garden > Decor > Home Fragrances > Fragrance Oils