Muscle Mist
GUARANTEED
Read the testimonials of many satisfied customers!
** Muscle Mist was formerly known as Miracle Mist **
We are now offering discounts for quantity purchases.
Order $75 or more and receive 10% off
Order $175 or more and receive 20% off
Minimum order based on subtotal; does not include shipping & handling
Muscle Mist is an herbal pain relief spray with many uses:
Arthritis
Fibromyalgia
Carpal tunnel syndrome
Bursitis
TMJ or dental problems
Heel spurs
Plantar fasciitis
Sciatica
Shin splints
Menstrual cramps
Muscle aches & pains
MS
Lupus
Scoliosis
Shingles
Gout
Joint pain
Muscle cramps
Sore/achy feet
Growing pains
Tension/stress headaches
Tendonitis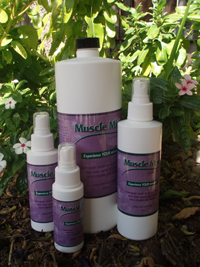 Muscle Mist can also be used as a preventative measure by spraying on prior to playing sports, working out or participating in any type of physical activity which may lead to strained or sore muscles or increased inflammation in arthritic joints. Muscle Mist reduces inflammation and restores blood flow to the area if it has been restricted. Relief is usually within several minutes and normally lasts from 3 to 7 hours and sometimes longer.
Directions
Shake well before using. Spray externally on any sore area of your body up to 3 or 4 times daily for temporary relief of aches and pains. Allow absorption to occur naturally for maximum penetration - no need to rub in. For chronic problems, it is suggested to use in the morning as a preventative before pain comes on (relief will usually last longer). A second application within 4-6 minutes is sometimes necessary for maximum results. For jaw or dental problems, spray a little on one finger and rub directly on the painful area on your face. Do not spray directly on your face.
Precautions
For ages 2 years and older. Application of external heat may cause irritation or burning sensation. Do not bandage or apply to wounds or open lesions. Use caution when spraying so no contact is made with eyes. If pores are open from activity or heat (i.e., shower or perspiration) or in the case of sensitive skin, a burning sensation may occur in that area after use. Keep out of the reach of childen. Do not inhale mist. If symptoms persist for more than 7 days, or if condition worsens, or if a rash/irritation develops, discontinue use.
Ingredients
Muscle Mist contains the following: Menthol, clove oil, isopropyl alcohol, purified water, eucalyptus oil, camphor, peppermint oil and jojoba oil. Do not use if you have an allergic reaction to any of these ingredients.
* You should receive your order in less than two weeks. However, if you have a deadline and need it sooner, please indicate that during checkout plus, give us a call at
(877) 557-1010 to be on the safe side.
* All orders are sent via the US Postal Service or Fed Ex.
All international customers will be responsible for any extra duties, fees, etc., on their shipments.
PLEASE NOTE THE 32 OZ MUSCLE MIST IS A REFILL BOTTLE
** MONEY BACK GUARANTEE ON LARGE SIZE JAR OF MARJORAM & BOTH SIZES OF ROSEMARY **
Take your favorite Aroma Sensations scent with you with our new aromatherapy necklaces

We are now offering discounts for quantity purchases.
Order $75 or more and receive 10% off
Order $175 or more and receive 20% off
Minimum order based on subtotal; does not include shipping & handling
Important: While traveling, keep the oils in a zipper-type baggie(s) & try to keep them upright. Some customers who placed saran wrap over the opening before capping the jar have said that it provided an adequate seal.
THESE ARE OILS and may spill if tipped - protect your furniture prior to use. When you are traveling with oils, place them in a zip-lock bag or plastic container and keep them upright. If you're pregnant or you have any major medical conditions, check with your physician before use. Oils may vary in effectiveness based on your individual physiology.
These statements have not been evaluated by the Food and Drug Administration. This product(s) is not intended to diagnose, treat, cure or prevent any disease. The information on these pages is not intended for medical claims, but for informational and educational purposes. Please consult a health professional for medical advice.